OJON Repairing Hair Mask - For dry, damaged, chemically processed hair.
has a rating of
5.0
stars based on
28
reviews.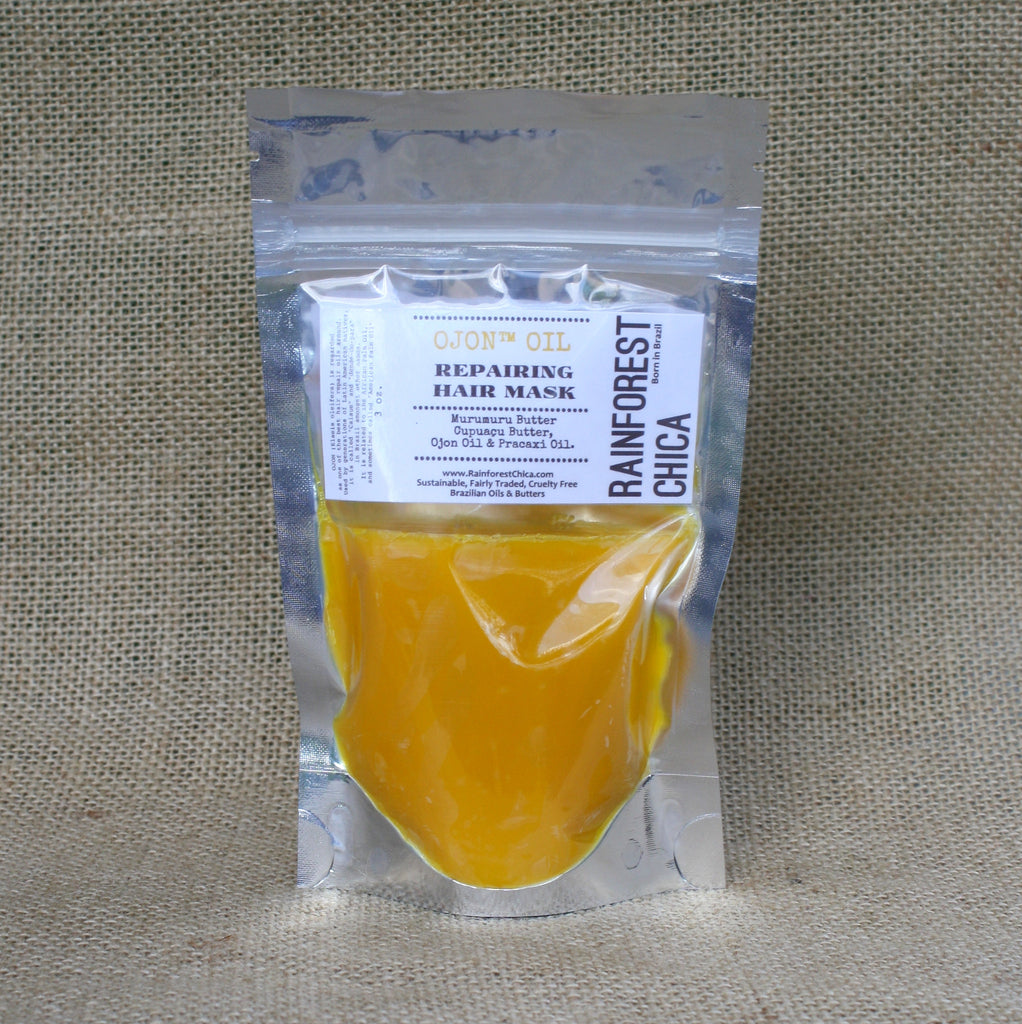 OJON Repairing Hair Mask - For dry, damaged, chemically processed hair.
The Best All Natural Hair Mask You Will Ever Try!

Caiaue Oil (Ojon) is regarded as one of the best hair repair oils around. It will help chemically treated, dry, damaged hair, but it can also be used on healthier hair to prevent dryness and damage. It is also used a few days after chemical procedures.
Ojon Oil is used in home treatments with a heating cap or in salons with a professional steamer, but I also recommend it for before the beach, pool, or just out in the sun (to prevent damage to your hair, always soak you hair with fresh water, apply oil and put back in a bum before swimming in pools or ocean).
This mask has 3 amazing products besides Ojon Oil: Cupuacu and Murumuru Butters and Pracaxi Oil. 
This butter/oil blend is solid in temperatures below 73, and will melt in higher temperatures. It does not change its properties, but it is easier to apply it as a soft butter.
It has no added scents, the natural scent is a pleasant mix of nutty and fruity and doesn't not linger long. You can mix a couple of drops of a good essential oil to the mask before application.
It can also be used as a leave in or finishing product depending on hair type.
You can also whip the whole content of the package and transfer to a container.
3 oz.
As all my other products it is also amazing for skin, mostly for deeply dry areas.
The Amazon butters and oils have been tested by generation's of rainforest's indigenous and local people. They are used for cooking, baking, healing, moisturizing and protecting against the elements. 
When we consume Amazon's self-sustainable products we give the local people an alternative to logging and farming which are the two largest responsible factors of the deforestation of such an important ecosystem.
100% Active Ingredients.
100% Organic and/or Wild Harvested Ingredients.
Product for cosmetic use only, not suited for human consumption!
This product is not intended to diagnose, treat, cure or prevent any disease.
Warnings:  Avoid contact with eyes, do not ingest. In case of eye contact, flush thoroughly with water, call physician if irritation persists. Keep out of reach of children.